104 BCD DROP-STOP OVAL CHAINRING - SHIMANO HG+
Regular price
$177.99
/
Tax included.
Shipping
calculated at checkout.
---
Free shipping on all orders over $100!
In stock, ready to ship

Inventory on the way
104 BCD is the most common bolt pattern on double and triple cranksets and happens to be the first product ever made by Wolf Tooth Components. The Drop-Stop® tooth design is the best performing on the market, with exceptional durability. 
Drop-Stop technology: On Wolf Tooth's patented wide/narrow chainring, the wide side of the tooth has maximum contact on the drive side which spreads the load and improves chainring life. The narrow side allows clearance for mud and debris which reduces friction.
Alternating wide/narrow tooth pattern prevents chain derailment.
COMPATIBILITY
Fits any 104 BCD crankset.
Designed to meet the requirements for E-bike use.
Chainring Bolts: All tooth sizes require 1x bolts that are 6mm long, with exception to 30T rings which are threaded and require bolts that are 7-10mm long.

Chainring Bolt Requirements for Bashring:

 104 x 30t - 10mm bolts are required for use with the bashring. Other 104 BCD sizes will need 8mm bolts - this is the stock size that comes on 3x cranksets holding the middle and big rings on. Wolf Tooth does not make these.
32t 104 BCD chainrings work on many older 2x Shimano cranksets (XT, SLX, or Deore).
Drivetrains: 1x12 Shimano HG drivetrains only
POWERTRAC ELLIPTICAL
More power? Check. Better traction? Definitely. Less shifting? Yup. Funky uneven pedal stroke? Not with Wolf Tooth's PowerTrac Elliptical™ (PTE) chainrings. Our proprietary design means a slightly less ovalized ring (10%) with less aggressive timing (112°) than competitors' versions; any change to your pedal stroke is unnoticeable for most riders, but they still provide the power and traction benefits inherent to oval chainrings.
It's like having two chainrings in one! With PowerTrac oval rings, the larger-diameter section of the ring engages with the chain at the optimal point on the downstroke, or "Power Zone" – between 1-5 and 7-11 on a clock face – to take advantage of your body's natural biomechanical power. For example, during this section a PTE 34t ring is equivalent to a 36t round ring. Similarly, in the "Recovery Zone" (11-1 and 5-7) the smaller section on the PTE ring engages, maximizing efficiency in the weakest part of the pedal stroke; here the PTE 34t ring is equivalent to a 32t round ring.
Additionally, the above provides a smoother, more efficient pedal rotation, which means better traction. Steadier torque on the rear wheel means less spinning out in the "Power Zone," while pedaling is easier during the "Recovery Zone," so you maintain momentum.
DROP-STOP TECHNOLOGY
Wolf Tooth's patented Drop-Stop® wide/narrow tooth profile delivers ultimate chain retention and mud shedding ability.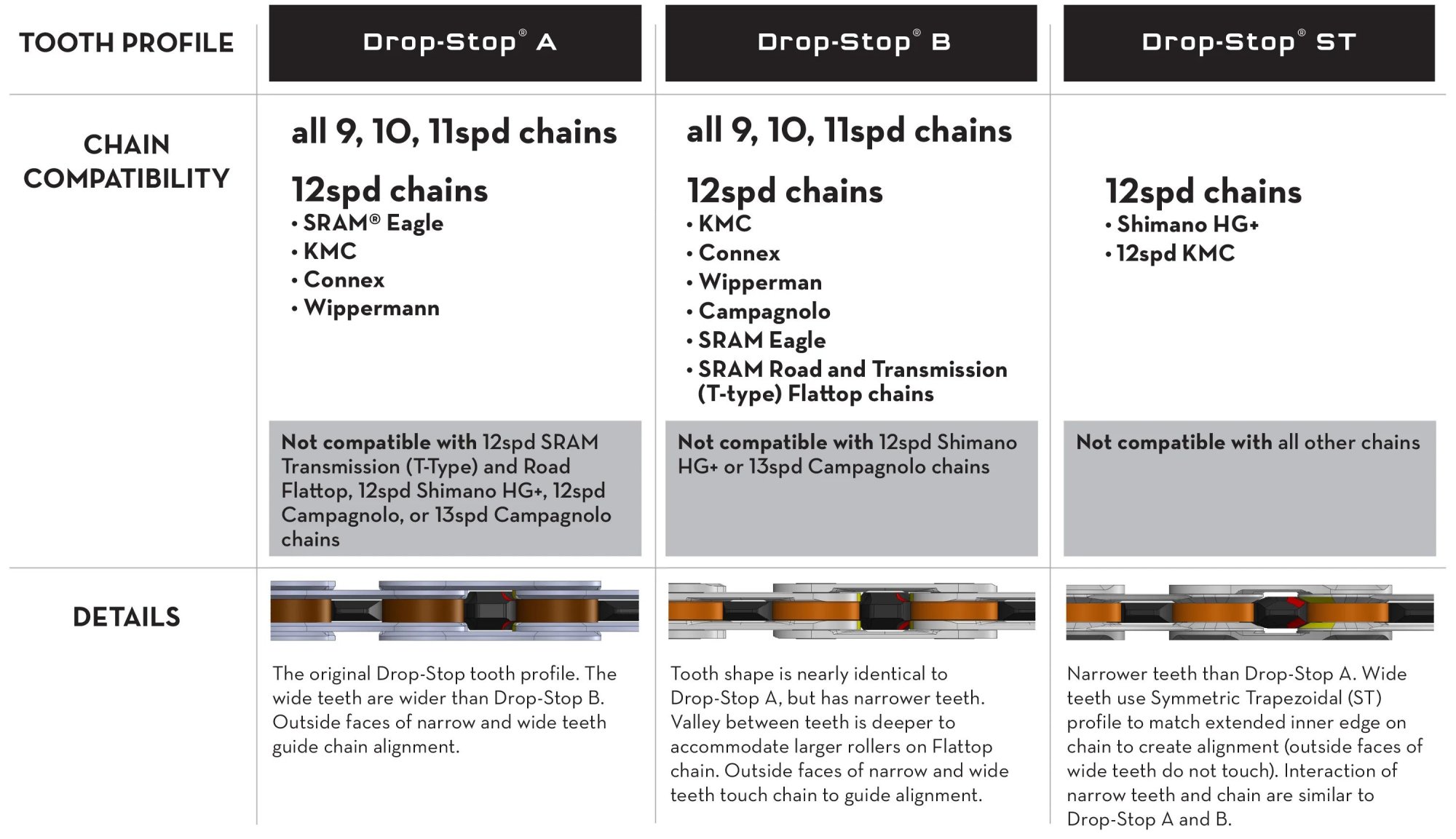 RECOMMENDATIONS
We recommend the use of a clutch style rear derailleur for the best chain security.
If you plan to ride in very muddy conditions, we recommend a chainguide or chainkeeper in addition to a clutch-type rear derailleur. Without these precautions, you may experience chaindrops and/or chainsuck.
SPECIFICATIONS
Weights: 32T • 41g | 34T • 48g | 36T • 55g
Material: 7075-T6 aluminum
Made in the USA
---
The Story
Wolf Tooth was founded to design and manufacture precision cycling products that emphasize function, performance, and reliability to meet the needs of our fellow racers and riders.
We are a group of cyclists in Minneapolis, Minnesota that spend a lot of time talking about bike components. Like most detail-obsessed riders, we're always looking for new products that could make our bikes lighter, faster, more versatile, or more reliable. We pride ourselves on delivering premium products of the highest quality.
Delivery Options
Free Delivery On Orders Over $100.00
$6.00 flat rate for orders under $100.00
Expected Delivery Times
North Island: Delivered in 1-2 business days 
South Island: Delivered in 3-4 business days

CLICK & COLLECT
Items in stock will be ready to collected within 1 hour of your order being placed.
Some items now ship from off-site locations so will be ready for collection within 2 working days.
Pick up times
8.30am - 5.30pm Monday-Friday 
9.30am - 2.00pm Saturday

Please wait to receive an email stating your order is ready to be collected.